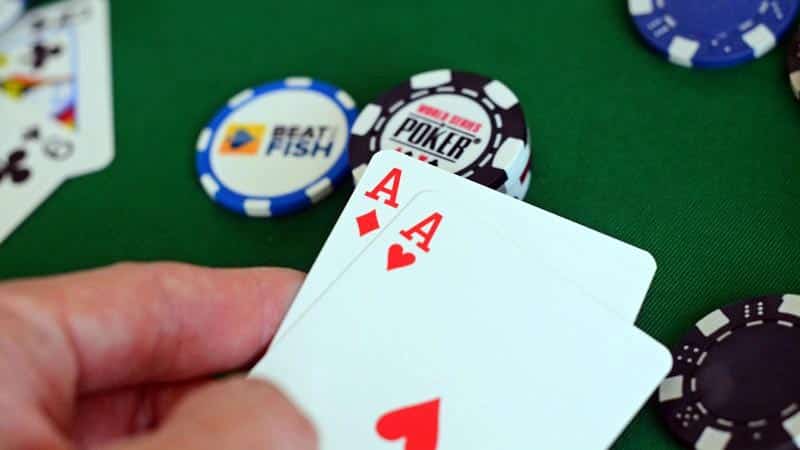 The World Series of Poker 2022 tournament series has come to an end, and we're looking back on the biggest news to come out of the event. So, if you missed out on anything exciting, you'll be able to read all about it in our WSOP 2022 recap.
Jeremy Ausmus Wins Three Bracelets in 9 Months
For most poker players, it's difficult to win one bracelet – but Jeremy Ausmus managed to win three in just nine months. His third came a couple of weeks into the 2022 WSOP, after winning the 6-Handed Limit Hold'em event for $142,147.
Prior to this, Ausmus won the 2021 High Roller PLO event for $1.18 million in November 2021, and the COVID-19 Relief NLHE Charity Event for $48,687 in September 2021. It's quite an impressive achievement, and surely sets some kind of record. It's unlikely we'll see another place accomplish such a feat since the 2021 World Series of Poker ended just six months before the 2022 installment.
Music Producer Steve Alibi Breaks WSOP Bracelet
At BeatTheFish, we're big music fans – so, we were thrilled when legendary music producer Steve Alibini won his second World Series of Poker bracelet in the $1,500 HORSE Championship for $196,089. That's not the best bit, though –
STEVE ALBINI WON A SECOND BRACELET AND IMMEDIATELY DROPPED AND BROKE IT #WSOP32 pic.twitter.com/635i0pUdv9

— Eric Rodawig (@ericrodawig) June 18, 2022
Shortly after getting his hands on the bracelet – he dropped and broke it!
Neymar Jr. Cashes in First WSOP Event
Soccer superstar Neymar Jr has been making a name for himself in the poker world for several years now but has only ever bubbled WSOP events – until now. After coming in 49th in the Super Turbo Bounty No-Limit Hold'em, he can finally add cashing in a World Series of Poker tournament to his long, long list of achievements.
Pot Awarded to the Wrong Player in $1M Guaranteed Online Tournament
It's not often you see big errors occur in World Series of Poker events – but, a pretty huge whoopsie occurred during the $10,300 buy-in Super High Roller event online at GGPoker. The hand in question saw Simon Mattsson go all-in with QsQd against Tom Talboom, who held 10s10d.
The board came down Ks6dKc7c5c, meaning Mattson should have won with a pair of Queens. However, the pot was actually awarded Talboom and, of course, it did not go unnoticed:
— bencb (@bencb789) June 27, 2022
Eventually, GGPoker responded, stating that it was a "conditional bug" that caused the issue, where the system recognized the game as a Flip&Go. The player was refunded, but news of the incident has continued to spread and do a fair bit of damage to the brand's reputation.
July 2 Alex Foxen Finally Wins a WSOP Bracelet
For years, Alex Foxen has been at the top of the game, crushing high roller events around the world. The poker community has been waiting for him to get his first WSOP bracelet for quite a while, and his time had finally come during the $250,000 Super High Roller event.
Foxen was up against some very stiff competition, including Phil Ivey and Dan Zack, but he managed to come out on top. Now, he joins his wife Kristen Foxen (who has three bracelets) as part of the WSOP bracelet-winners club.
"It really means a lot to me. It's kind of been a monkey on the back. I've always wanted a bracelet. This feels like a really special one to get my first in" – Foxen says.
Phil Hellmuth WSOP Entrance is Booed
We've seen Phil Hellmuth make a grand entrance at the World Series of Poker before – and always in costume – but, he's never received such an icy reception. He showed up wearing a Darth Vader costume and, while some onlookers gave a little cheer, many actually booed him.
Hellmuth intro absurdly disruptive and annoying while players are in pots

Jack announces his arrival

A few people in bally's clap, quickly over taken by boos

— Gags30 (@Gags30poker) July 7, 2022
We're not entirely sure why, but the above tweet seems to give a good indication. It seems like WSOP players were annoyed with his attention-seeking efforts, but some believe that the jeers were actually due to the lack of fanfare. You see, Hellmuth usually has no less than a dozen models rolling in with him and it's possible that WSOP patrons felt a little short-changed.
July 10 Layne Flack Inducted into the Poker Hall of Fame
Last year, the poker world was shaken when Layne Flack passed away at age 52. He is best-known for being a pioneer in the noughties, as a 6-time WSOP bracelet winner. Over the course of his career, he accumulated $5 million in live tournament winnings and is known by his peers like Phil Helmuth and Mike Matusow for bringing fun to the game.
"Layne had such an amazing ability to read other players at the table, it was the best I had ever seen," he said. "He was able to talk players out of their chips but always within the rules. He always made it fun to play poker and we need characters in the game like Layne. Congratulations to the Flack family, his legacy is now secure – " Matt Savage, WPT Executive Tour Director and fellow Hall of Fame nominee.
July 17 Active Shooter Scare
While the World Series of Poker is one of the most exciting events in the industry, it has never seen anything like the active shooter scare that took place towards the end of the tournament. The noise of glass breaking was misinterpreted as gunshots, causing patrons to flee the casino. We were relieved to find out that there was not a shooter in the event, but many were injured, including Daniel Negreanu, who flogged about the situation:
Espen Jorstad Wins the WSOP Main Event
When we reported on Day 7 of the World Series of Poker Main Event, Espen Jorstad was in 5th place with 31.1 million chips as Jeffrey Farnes had the chip lead. By the time the final table was set, the tables had turned with Jorstad becoming the chip leader with 83.2 million chips and just under half of that.
As the field dwindled down to just two players, Jorstad found himself heads up with Adrian Attenborough. It wasn't very long before he secured the win, as Jorstad limped with Qd 2s and Attenborough called with Jc4s.
On the flop came 4h2h2c, with Attenborough raising to 14m – to which Jorstad raised to 31m. The 8s was revealed on the turn, causing Attenborough to check and Jorstad to raise to 62m. On the river, Qc, Jorstad shoved and his opponent tanked for nearly 10 minutes before calling. Jorstad then flipped over his winning hand to secure the title of WSOP Main Event 2022 winner for a huge $10 million prize.
Dan Zack Wins WSOP Player of the Year
For over five years, Dan Zack has been a big winner at the World Series of Poker, but he has never come out on top of the PotY race. It was thought that 2019 would be his year, after player 47th and 65th in 2017 and 2018 respectively, but he only managed to land in the sixth spot while Robert Campbell won the title.
Now, he's finally joined the likes of Daniel Negreanu, Erick Lindgren and Jason Mercier as a WSOP Player of the Year. The full list of wins in 2022 is as follows:
Tournament of Champions – 55th place for $3,500
Event #80: $600 Mixed No-Limit Hold'em; Pot-Limit Omaha Deepstack – 12th place for $9,092
Event #75: $777 Lucky 7's No-Limit Hold'em 7-Handed – 188th place for $3,200
Event #74: $1,500 BOUNTY Pot-Limit Omaha 8-Handed – 149th place for $1,645
Online Event #7: $500 No Limit Hold'em Deepstack – 63rd place for $2,238
Event #68: $1,000 Million Dollar Bounty No-Limit Hold'em – 492nd for $3,841
Event #63: $10,000 Pot-Limit Omaha Hi-Lo 8 or Better Championship – 23rd place for $20,214
Event #58: $1,500 Pot-Limit Omaha Hi-Lo 8 or Better – 48th place for $5,294
Event #53: $5,000 Mixed No-Limit Hold'em; Pot-Limit Omaha – 91st place for $8,761
Event #50: $250,000 Super High Roller No-Limit Hold'em – 8th place for $488,095
Event #46: $5,000 6-Handed No-Limit Hold'em – 91st place for $8,807
Event #40: $10,000 Seven Card Stud Hi-Lo 8 or Better Championship – 1st place for $324,174
Event #31: $10,000 Limit 2-7 Lowball Triple Draw Championship – 3rd place for $129,670
Event #30: $1,000 Pot-Limit Omaha 8-Handed – 166th place for $2,004
Event #24: $1,000 FLIP & GO No-Limit Hold'em – 43rd place for $4,330
Event #15: $10,000 Omaha Hi-Lo 8 or Better Championship – 1st place for $440,757
Event #5: $500 The Housewarming No-limit Hold'em- 200th place for $4,805
WSOP Circuit Super Series Event #5 – $50,000 GTD NLH – 47th place for $410
Benjamin Kaupp Wins Tournament of Champions
The final event of the 2022 World Series of Poker was the Tournament of Champions, which ended yesterday. The event was only available to an exclusive group of players – the 570 winners who landed bracelets and rings from the 2022 WSOP season. 470 players entered the event for their chance to earn a piece of the $1 million prize pool.
Kaup cashed in on an impressive $250,000 after beating out some very talented players, including Yuliyan Kolev, who came first in the $1,500 Millionaire Maker event for $1.4 million. He qualified by winning a $215 circuit event in Pennsylvania for $14,000. So, his win in the Tournament of Champions is, by far, the biggest win of his career.