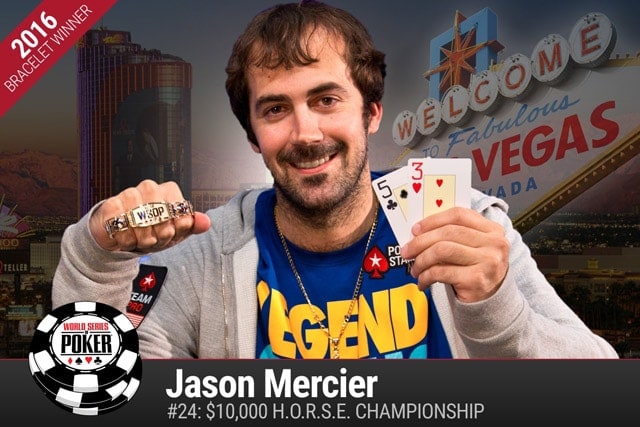 It is almost a rule that there is one player every year who simply plays and runs better than the rest and their results go well beyond anyone's expectations and sometimes even beyond the wildest imagination. This year, that player's name is Jason Mercier, who right now looks like an unstoppable force intent on making a lot of money, both on the tables and away from them.
Jason Mercier Dominates WSOP 2016
Just a few days ago, we published an article describing Mercier's success in the $10k 2-7 Low Drawball Championship. For most players, this alone is a huge success, but Mercier, who claimed his fourth WSOP bracelet with this victory, didn't stop at that.
The last Thursday saw him go heads-up for another bracelet in the $10k Razz Championship. Playing for more than $270k in prize money, yet another bracelet, and undisclosed (but probably obscene) amounts of money in side bets, Mercier was stopped short by Ray Dehkharghani. This time around, PokerStars pro had to be satisfied with the runner-up finish and some $169,000 for his efforts.
But, Jason's motivation for winning bracelets is clealry very strong this year and he was unfazed by coming just short. He quickly bounced back in the $10k HORSE championship, which drew a total of 171 players, creating the prize pool of $1.6 million.
Mercier made it almost look easy on his way to the final table, dominating other hopefuls in the field. Although he faced some tough competition at the final table, including the likes of Bryn Kenney and Jesse Martin, Jason found his way to the heads-up confrontation, where he dispatched James Obst, claiming his second bracelet of WSOP 2016 and fifth overall.
What about side bets?
The way Mercier has taken the WSOP 2016 by storm has surprised many, but primarily those who had side bets against the pro winning one or two bracelets. Jason is not very keen on speaking about exact numbers, but from his hints it is quite clear that there is some substantial side action going on and he is on the right end of it.
That would be #5 …2nd one this summer.

Shipped the 10k horse for 422k and a ton more on the side. #TwoDownOneToGo pic.twitter.com/75mXHAdmVF

— Jason Mercier (@JasonMercier) June 18, 2016
There is one bet that we do know the details of, the one against Vanessa Selbst. Selbst gave Mercier 180 : 1 odds that he could not win three bracelets during the Series. She put forth $1,800,000 against Jason's $10k and Mercier's performance certainly put her in an uncomfortable position.
However, the rumor has it that Vanessa bought out of the bet, paying $100,000 to Mike 'Timex' McDonald, so while she paid five figures, it seems she won't be the one on the line for close to two millions. As for 'Timex,' he's always been known for crazy prop-bets, so this probably doesn't faze him too much, although he is certainly not rooting for Mercier.
As for Mercier, he clearly favors his side in the bet, as he continues to accept bets at 4 : 1 that he will win another bracelet this summer.
I'll still bet on myself to win another bracelet. I'll take 4-1 if anyone wants it. LMK

Min bet my 5k vs your 20.

— Jason Mercier (@JasonMercier) June 18, 2016
But, with the way he's been running, siding against him doesn't seem like the most prudent idea:
Bagged 444k in the 10k Omaha8 heading to day 3… 16 players left. Just below avg stack but loving my chances #AnotherDayAtTheOffice

— Jason Mercier (@JasonMercier) June 21, 2016
Super Seniors event well underway
Featuring the $1,000 buy-in, this year's Super Seniors event drew a total of 1,476 participants. The participation is limited to players 65 of age or older, so this is a rather strong showing overall. After several days of play, the initial field has been reduced to just fourteen players, all chasing the bracelet and the $230k first place.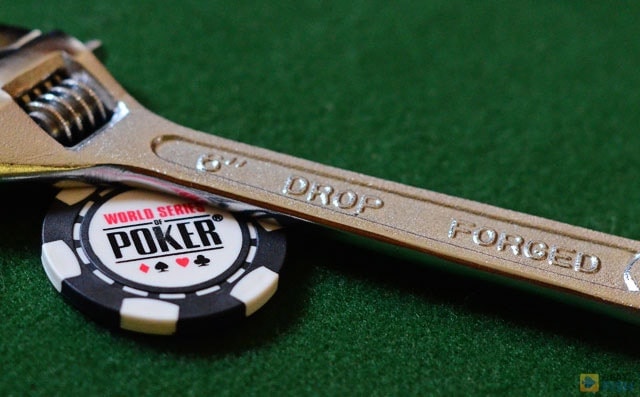 Currently leading the way is Fred Berger, who already has one WSOP bracelet and one WSOP Circuit ring to his name. On his trail is Eugene Spinner, the player with only one WSOP cash to his name, coming from 2015.
Super Senior events are special treat during the Series because they allow the poker veterans to battle it out without having to put up with cocky young guns. It is one of few tournament during the year reserved just for them.