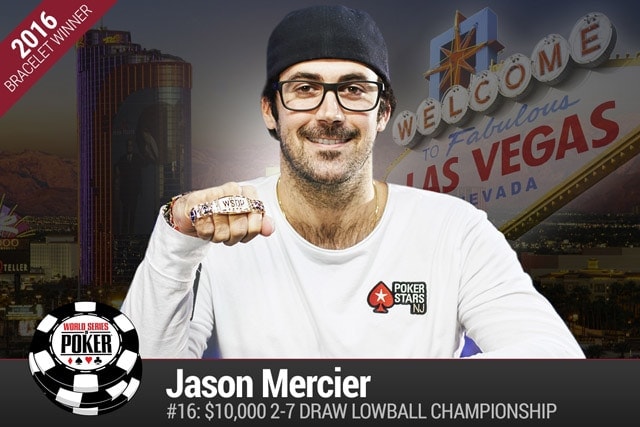 Last night saw one of the best known names in the poker industry claim his fourth WSOP gold. Namely, Jason Mercier won a WSOP bracelet in the $10k Deuce to Seven Lowball Championship, outlasting the field of exactly 100 players, many of whom have some impressive results of their own.
From 100 to final table
The $10k Deuce to Seven Championship saw a number of big poker names take their seats in the tournament room. Of course, the biggest story of the first day of play was the presence of Howard 'The Professor' Lederer, who joined a WSOP tournament for the first time since 2010.
Lederer made it through the Day 1, albeit nursing a very short stack. Other survivors, 34 of them in total, were led by Alex Luneau who bagged the chip lead. Apart from him, other notables who kept him company were Mike 'The Mouth' Matusow, Brian Hastings, Anthony Zinno, and Jason Mercier. After the end of Day 1, Mercier only  had an average stack to return to, but it would prove more than sufficient for the experienced pro.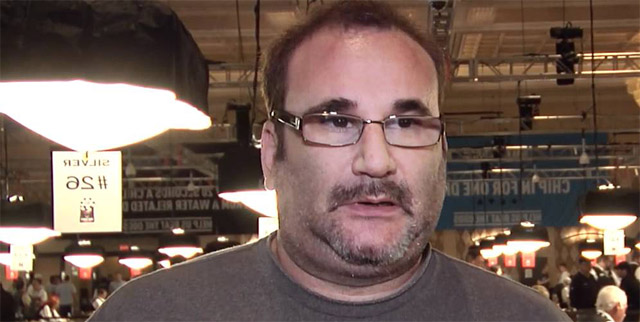 Day 2
With 34 players starting the day, the first order of business was making money. Fifteen players were set to take home at least $15,464, while the eventual winner would receive $273,000 and some pocket change.
The list of those who got close but without cigar included Howard Lederer, whose WSOP debut did not quite go as planned, Nick Schulman, Daniel Zack, and, eventually, Mike Wattel, who was eliminated on the official bubble.
The rest of the players were now guaranteed a payday and in short order we saw exits of Jared Bleznick, Daniel 'Kid Poker' Negreanu, Mike Matusow, Brian Hastings, O'Neil, and Zinno. Stopped short of fulfilling their bracelet dreams, these players would have to look for their luck in another event. The final nine would return tomorrow to determine the champion.
Jason Mercier wins WSOP bracelet and confirms his skills
During the Day 2, Mercier kept chipping up, and returned for the final day of play holding the lead. This would prove sufficient advantage for the PokerStars pro who has had plenty of final table appearances in big tournaments over the years.
Jesse Martin and Herezel Zalewski were eliminated in short order, creating the official final table of seven. In the meantime, Mercier lost his chip lead and it was Mike Watson who took the charge. Watson was responsible for the first two eliminations as well, sending Alex Luneau and Stephen Chidwick to the rail.
After some back and forth at the final table, Watson added third scalp to his collection, when he ended bracelet hopes of Benny Glaser. This gave him a sizable lead over the remaining three players and it seemed like Mike was well on his way to capturing the bracelet all for himself.
However, Mercier started to wake up and managed to seize the lead without any eliminations. David Grey was sent packing by Lamar Wilkinson and Lamar, in turn, was eliminated by Watson.
Heads up for the title
The last elimination gave the lead to Mike Watson once again and Mercier had some catching up to do, with the difference being around 20 bb. This wasn't a big deal for Jason, who's been known to come back from worse situations, and the game was far from over.
After some back and forth, Mercier was able to even up the stacks first and then proceeded to take the commanding lead in the final skirmish. There wasn't much Watson could do as Jason put forth quite a performance and cards fell his way as well. Not long after Jason had seized the lead, it was all over.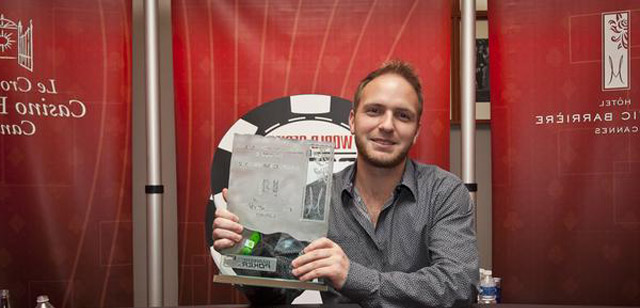 Jason Mercier wins WSOP bracelet number four and, perhaps even more importantly, puts himself in a spot to win a lot of money from the side-bets. Although he wouldn't disclose many details in the winner's interview, Jason hinted that another bracelet during this year's Series would earn him a lot of money.
If Mercier happens to get in a spot to play for his third bracelet, in his own words, quite a few players will be in for the sweat of their lives.
Side-bets aside, this victory brought Jason Mercier $273,000, while the runner-up Mike Watson took home just shy of $169k.