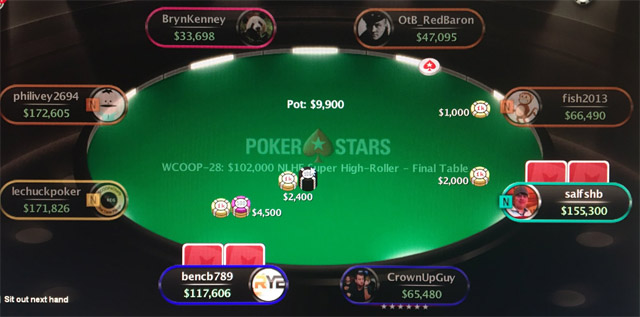 We have the names of the 2016 WCOOP SHR winners and, surprise-surprise, retired Fedor 'CrownUpGuy' Holz is among them. Although he officially came second, after the deal with 'bencb789', Holz took home $1,067,639, just a $100k less than the official winner. Salman 'salfshb' Behbehani finished in third, earning $560,000.
2016 WCOOP SHR Winners battling a small field
Although the biggest ever online tournament to take place, with the buy-in of $102,000, 2016 WCOOP Super High Roller event attracted a field of just 28 players. The tournament was streamed live by the Jason Mercier & Jason Somerville duo, and the stream naturally attracted thousands of poker fans, eagerly waiting to see their heroes in action.
Although relatively small, the tournament field consisted of some of the biggest names in the industry. The likes of Isaac 'philivey2649' Haxton, Doug 'WCGRider' Polk, Igor Kurganov, Justin Bonomo, and Bryn Kenney joined the action, making it clear that 2016 WCOOP SHR winners were going to be members of the poker elite.
With a deep structure, there was plenty of play to be had, so the pros started battling it out. Apart from the Mercier-Somerville stream, Doug Polk was running one of his own, with a 15-minute delay as well.
No matter how big a buy-in, every poker tournament goes down the same way as some players are sent to the rail while others add their chips to their own stacks. The 2016 WCOOP SHR was no different, as one by one, players were eliminated, leaving their $102k buy-in behind.
Mercier fell in a classic cooler situation when his pocket Kings ran into Kuznetsov's pocket rockets. He used his option to reenter, however, and he was the only player to do so apart from Kuznetsov himself who got knocked out by Thuritz. With these two reentries, the total number of participants went from 26 to 28, bringing the prize pool to $2.8 million.
Road to the final table
Once the reentry period was over, Doug Polk was the first one to be permanently eliminated. His chips were appropriated by Mustapha Kanit whose combo draw came in on the river. After him, Bonomo followed him through the virtual door, and Mercier's second life was taken by Igor Kurganov.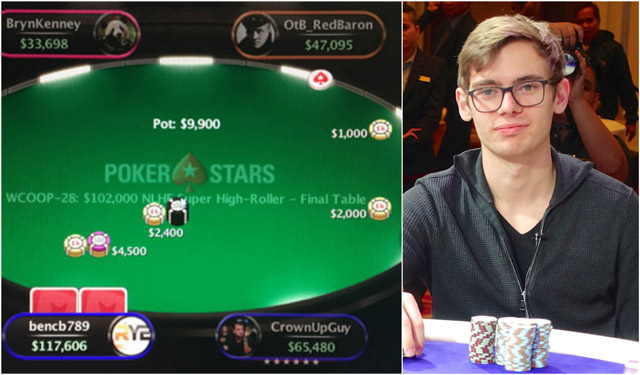 Eventually, the final table of nine was set up, but players were still far cry from the money, as with 28 total entries, only three players would have cash added to their PokerStars balances. After a few more exits, the last one being that of Bryn Kenney, the tournament was paused for the day with six players remaining.
Finding 2016 WCOOP SHR winners
Final six players returned yesterday to finish off what they had started. First one to go was Mikita Badiakouski whose pocket Aces were cracked by Fedor's powerhouse in the form of a King and a Deuce.
Igor 'lechckpoker' Kurganov had a really nice run through the tournament but as it turned out, the luck deserted him just when he needed it the most. Once again, Holz was the executioner and, once again, he had to catch a river card to crack Igor's top pair in the blind vs. blind confrontation.
Going three for three, 'CrownUpGuy' pushed on Isaac Haxton and received a bad news when Ike quickly called holding pocket Tens to Holz's 3-5 in diamond. The flop gave Haxton top set but it also improved Fedor's odds as he flopped a flush draw. Turn was a blank, and the river was… We all know what the river was.
With Ike out of the picture, players finally burst the bubble and entered the small circle of 2016 WCOOP SHR winners. Although only one of them was an official winner, with so few places paid and so much money on the line, making the money feels almost as good as winning.
The eventual winner 'bencb789' was the one to send Salman 'salfshb' Behbehani to the rail after his Ace-Queen sucked out on Salman's Ace-King. However, finishing third here secured a payday of $560,000 for 'salfshb'.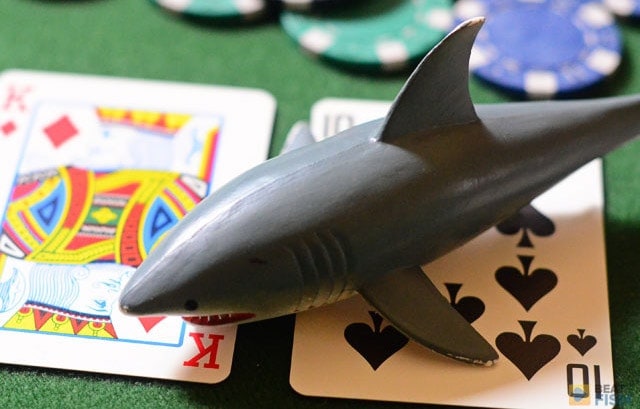 Split the cash up
Holz and 'bencb789' then proceeded to request a pause and asked for deal numbers to be presented to them. The offer was clearly satisfactory to both players, as they quickly agreed after seeing the amounts, with Holz taking home $1,067,639 and 'bencb789' earning $1,116,360.
Am I doing retirement right? #102k #WCOOP2016

— Fedor Holz (@CrownUpGuy) September 12, 2016
The deal left another $56,000 to play for and that amount, as well as the official 2016 WCOOP Super High Roller title, was claimed by 'bencb789' who successfully picked off Fedor's three-barrel bluff.
And so, the biggest online tournament of our times was concluded, with three 2016 WCOOP SHR winners cashing in on the generous $102k donations contributed by the rest of the field.
What else to say other than: good game!