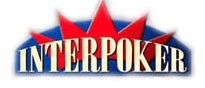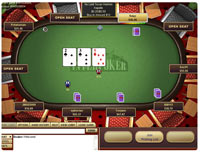 Overall:

3/5
Bonus and Promotions:

4/5
Fish Rating:



3/5 (who likes swordfish?)
Tournaments:

3/5
Software:

3.5/5
Payouts:

3.5/5
Customer Service:

5/5




Overall:

3/5
The main draw of InterPoker is the fact that the have probably the best loyalty program online. If you play regularly at their site, especially for higher stakes, you can earn $1,000 per year ($90 per month) in bonuses. It's basically like getting your deposit bonus back each month. This is also a popular international site, as they offer games in Euros, Pounds, and U.S. Dollars. For the best value, you should stick to the $ games whenever possible. I'll go into that a little more later.
The software is basic but playable, and their customer service is very good. Overall, this site is the best choice for players who love bonuses, but some of their other features still make this a strong poker room. Please note that we are decreasing their rankings due to not accepting American players.
Bonus (100% up to $90) and Promotions:

4/5
As mentioned above, InterPoker has a good poker loyalty program. Each month, you're eligible to receive a $90 bonus directly from them. They're rewarding you for playing regularly in their ring games, and you'll need to play a certain amount of raked hands to clear the bonus. This should be fairly quick for middle stakes players, but may be difficult for low-limit players.
I suggest playing at multiple tables and/or tables with high average pots if you're looking to go for the monthly bonus as a smaller player. This can be a really neat promotion if you plan to stick around at their site. They also offer a prop player program, in which they'll pay you to start off new tables. You can earn between $10-30 for each hour of play. You will receive an offer as a pop-up window automatically, and you can accept or decline it. Besides that, InterPoker offers a Bad Beat Jackpot, a Royal Flush Jackpot, and special promotions to earn poker books and merchandise.
Fish:



3/5
My general comment of, "Do you like swordfish" was supposed to imply that these players are still fish, but they have a little sting to them. Get it? A swordfish would hurt if it... Nevermind. Anyway, InterPoker also offers a well-known casino that is frequented by European players. These players have spilled over into the poker room and are largely inexperienced. However, they also tend to be pretty aggressive.
While the percentage seeing the flop is generally low at no-limit ring games (30-40%), the average pot is still sizeable. This combination means that you're usually going to have to go through a raise or two to get to the flop. Once you do get to the flop, don't expect the action to decrease. I recommend that you play a pretty tight game, since you want to be in the hand with the best of it if you're going to have to pay a hefty price to see the flop. You can beat these players, but they might throw you off your game if you're used to dominating the table.
Tournaments:

3/5
I recently upgraded the tournament score at InterPoker as they have definitely improved their overall traffic. Even during offpeak hours, they do have fairly popular events at a number of currencies. They've also improved the number of actual events available, which is good for establishing a wide range of buy-ins.
The most popular tournaments continue to be the guaranteed prize pool tourneys and satellites. Typically, these tournaments have a good number of participants, and the lower traffic can actually be an advantage in a satellite event. In terms of lower buy-ins during daytime hours, the events are popular enough and can easily attract a couple of hundred players. Medium buy-in tourneys also average a fair amount of traffic during peak European hours.
Software:

3.5/5
The majority of internet critics seem to really rag on this software. I don't really think this is fair. Sure, the graphics aren't exactly state-of-the-art or highly detailed at InterPoker, but does it really matter that much? To me, poker software is more about functionality than anything else. If I'm comfortable using it and it runs smoothly, I'm pretty satisfied. I appreciate sharp graphics as much as the next guy, but it isn't necessary for me to enjoy the game. Of course, everyone has their own priorities, and maybe graphics are the most important aspect of online poker to you. If so, then you might want to look for a different poker site.
That being said, this software runs very quickly, which is a statistic that I appreciate. Typically, games run at 60+ hands per hour, and the table windows allow you plenty of customizable options. In general, I rate this software pretty well since it runs smoothly and is easy to follow. Stick the $ tables when possible, since they calculate the maximum rake at 3 units, and it isn't on a sliding scale. A rake of 3 Pounds or Euros is taking a lot more from the pot than $3, which is the online poker standard.
Payouts:

3.5/5
InterPoker receives a lower payout score not because of the actual payout into your account, but the somewhat tedious method. I suppose it is the ensure greater security, but it can take a little longer for your first withdrawal. How it works is you're snail-mailed a specific PIN from InterPoker to use when you make a withdrawal. You need this code in order to process your cashout. If you lose the code, you'll have to wait for another PIN to arrive in the mail. If you cashout often enough, you'll always have your code handy so it isn't a problem. Actual cashout time is quite fast - usually within 1-2 days. Some players may appreciate the added security.
Customer Service:

5/5
I like the customer service from InterPoker. They offer standard e-mail support, but also provide a telephone number for each country for immediate assistance. They're usually very helpful if you need to e-mail them or speak with someone right away.
Player Traffic
They're on a shared network, so traffic has been increasing. Tournament traffic is has been improving, but ring games are the most popular. You should be able to find your desired fixed-limit or no-limit game going on, and I do appreciate the international traffic that populated the tables while I keep vampire-like hours.
Best Features

Excellent player loyalty bonus. This is probably the best loyalty bonus out there since you can earn it monthly without playing a ridiculous amount of hands.

Fast and aggressive pots. European players are notorious for being aggressive so you can usually get your big hands raised when you want to.

Prop player program. Here's your solution if you want to get paid to play poker. You can earn an hourly wage for starting up new games here... just make sure they're ones that you're familiar with.
Game Selection: Hold 'em, Omaha, Stud
Limits: Limit: 25c/50c up to $150/$300 No-Limit: 15c/30c up to $10/$20
Deposit Methods: NETeller, Firepay, Citadel, ECP, major credit cards, check, or wire transfers.
Tips: As I mentioned earlier, many of your opponents at InterPoker will be aggressive European players. Mostly, there are raises before and after the flop. These players like to try to dominate the table, regardless of the strength of their hand. Because of this common aggression, you should play less drawing hands like J-10 suited or lower suited connectors. With less players seeing the flop for a larger bet, you aren't getting the pot odds necessary to make hands like suited connectors profitable. Ideally, you'd like to have a big pocket pair preflop like K-K or A-A. Since there is usually a raise preflop, you're in an excellent position when you're close to the button and are acting after your opponents.
Not only is your opponents willing to call, he put in the first raise. Instead of slowplaying, toss in a nice reraise. You're putting the pressure on him and taking control of the hand. If he's raising with a trash hand, you don't want him seeing the flop on his terms. Make him pay to push you around when you have a premium hand, and hopefully you can get in all your money before the flop.

Visit InterPoker