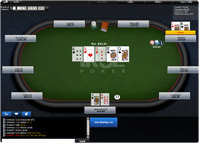 Overall:

3.5/5
Bonus and Promotions:

3/5
Fish Rating:




3.5/5 (True Fish)
Tournaments:

3/5
Software:

4/5
Payouts:

4/5
Customer Service:

3.5/5

For being one of the smaller online poker rooms I've been very impressed with the recent additions True Poker has made to the cashier. US players are now able to use what True Poker calls iCheck, which is essentially a direct checking account deposit. With virtually everyone having a personal checking accounts this will be the first option for most players. You fill your checking account information into a virtual check and the funds are then immediately able to be used for gameplay. The process takes about 5 minutes and I greatly appreciate the minimal personal information required.
Secondary e-wallet options include the eWalletXpress service and the growing PIC-Club service. Existing users of these services should find the process pain-free. Of course, True Poker does accept major credit cards and while it is one of the most convenient deposit methods you should be prepared for the possible declined transaction from your bank. Finally, players can mail paper checks directly to True Poker for credit to their account or request a cash transfer, which is a ubiquitous service in grocery and convenience stores.






Overall:

3.5/5
While what once seemed like a state-of-the-art way to play online poker now feels more than a bit dated, the 3D view supported in the True Poker software is still the only way for US players to experience a first-person view at the table. If one of your priorities in online poker is the visual software experience, the 3-D graphics and actual avatar movements at True Poker do provide a unique experience and a nice break from the monotony of the typical software standard. Another big positive is the US cashier, which is surprisingly robust and even offers direct eCheck deposits.
If you look beyond the claim-to-fame True Poker software you'll find a poker room with a small-community feel and friendly players that lacks the essential ingredient of the most successful poker rooms: traffic. At least players can find an active game or two up to the $2/4 or sometimes $5/10 NL level. True Poker does also have a strong 100% bonus if you play at fair stakes and the players, encouraged by the relaxed pace of the poker room, are generally soft. While you won't find a large amount of active games or big guaranteed tournaments, True Poker serves its purpose well as a friendly niche site with a unique software package.
Bonus (100% up to $200) and Promotions:

3/5
The promotional offerings are somewhat slim at True Poker, but they've made a recent improvement in their 100% bonus. Through our site, it's a 100% bonus good up to $200. You'll convert each $10 of the bonus to cash for playing each 100 raked hands. Unfortunately, a raked hand only qualifies if it has been raked at least $1. Half points are given if the rake is more than 50 cents. With game speed a bit slower than average at True Poker bonuses will take numerous playing sessions to work off. Micro-limit players will have a difficult time seeing a lot of the bonus.
The other main True Poker promotions include tournaments based around the current major sports season as well as a complicated VIP system. The VIP system is great in theory as it allows players to earn cash back on their play. The difficulty comes in the 2,000 monthly raked hand requirement and the vague requirement to play more raked hands the following month to maintain VIP status. The more hands that players see the greater percentage cash back they receive. For regular middle or higher stakes players this can be a great system to earn back rake contributed at the tables but casual players will probably see little benefit.
Fish:




3.5/5
While True Poker hasn't traditionally offered micro-limit tables, they've recently added $10, $25 and $50 no-limit full ring games. This is a nice option for low-limit players or those who just want to take a break and not risk very much of a buy-in. While the skill level seems to range from table to table, generally the competition is quite weak but still aggressive. Flop percentages for full no-limit ring games can easily reach 35% and sometimes climb as high as 45%.
The most traffic tends to follow the smallest games and your opponents at this level are pretty beatable. What I tend to find at True Poker is that pots reach incredible amounts very quickly. Full ring games often have average pots of 40-50 times the big blind, which is quite large. I recommend that you only play your premium cards, as these players won't let you in to see a cheap flop very often. Expect loose and aggressive (i.e. maniacal) players at True Poker.
Tournaments:

3/5
The True Poker tournament schedule is fairly sparse due to lack of overall traffic. Currently, they're hosting some interesting tournament promotions such as sports-themed exclusive events as well as a $5,000 freeroll tournaments for the month's top players. Their largest weekly event is a weekly $6,000 guaranteed tournament on Sundays. While that isn't an enormous prize pool, it also means that you're up against less opponents.
True Poker hosts a tournament every hour or so with buy-ins usually in the $10-30 range. Guaranteed events take place 2 or 3 times daily with prize pools between $500-$1,200. The number of players is usually under 60-70 making them essentially large Sit and Gos that can be completed in a short amount of time.
Software:

4/5
When True Poker launched several years ago, the unique 3-D table graphics were on the same advanced level as the current generation of video games. It was pretty amazing to play real money poker from seemingly within a video game. While the HD era made the True Poker graphics look a bit dated I still appreciated the novelty of playing from a first-person perspective. It's surprising that over the last decade only True Poker and a couple of non-US poker rooms have tried to implement this natural viewpoint.
The animations were a bit stiff and you actually have to click to flip up the sides of your hole cards but it was just a bit more realistic and fun to see the table from a brick-and-mortar point of view. Unfortunately, the entire True Poker 3D mode has now been disabled in favor of a more updated 2D view. I understand the rationale behind the update but I still would have preferred to be able to launch up the old 3D relic for fun once in a while.
The new True Poker 2D software is perfectly serviceable and, in fact, probably looks sharper than larger rooms with larger budgets. The color scheme, animations, and card graphics are all extremely sharp and makes the overall gameplay feel smooth. I don't mind the lack of customizable avatars, which keeps the tables clean and free of clutter. The default True Poker table size is nice and large, although they're finally catching up to their peers and allowing resizable tables. Average game speed for full 9-handed tables is also above-average at a comfortable 60-70 hands per hour.
US Payouts:

4/5
While True Poker has recently added the direct checking account option for both deposits and payouts I've used paper checks for the past couple of years. The turnaround time certainly isn't as fast as the major sites with most checks arriving in about 3-4 weeks. Fortunately, I can depend on the check to always eventually arrive and it the processor seems to work fine with US banks.
Customer Service:

3.5/5
Customer service has been slower than average at True Poker as they're a small operation that handles support primarily through e-mail. When I've had to contact support via e-mail they've always been friendly and competent with a wait-time of about 12-24 hours. Recently, they've added a telephone number that is open almost all day, although it isn't toll-free.
Player Traffic
With the introduction of low limit tables, True Poker has increased their ring game traffic. It still isn't enormous, but it does usually have a handful of games up to about the $5/10 NL level going around the clock. They don't typically offer many tournaments but their top guaranteed events draw about 60-70 players.
Best Features

Loose cash games. The recent boost in traffic hasn't changed the high flops percentages and large average flops at True Poker.

Easy to earn bonus. The bonus is a standard amount but I find that it cashes out pretty quickly.

Smaller tournaments. Skilled players stand a greater chance of winning against fewer opponents.
Game Selection: Hold'em, Omaha, Stud, Draw
Limits: Limit: 5c/10c up to $5/$10 No-Limit: 5c/10c up to $5/$10
Deposit Methods: NETeller, Citadel, UseMyBank, and major credit cards.
Minimum Deposit: $20
Tips: True Poker has mostly soft action, especially at the no-limit levels. At a weak-tight table with lots of calling stations, I would recommend limping with more of your marginal hands as you are usually getting the proper odds to do so. When you do pick up a premium or even above-average hand, I would fire in a raise to make it expensive for bad hands to hit a good flop. If your table is full of tight-aggressive players and you've established a strong table image, I would try to pick up more pots by raising from late position with hands like suited connectors. If you know the players at your table to be be playing solid cards, be careful if someone plays back at you.

Visit True Poker